Our ambassadors are a group of energetic ocean souls we have met over the years who represent the Vision and the Mission of Ocean Nomads. A group of exciting, dedicated and motivated salty souls that share similar values, take the initiative and are determined to make Ocean Nomads work together!
They are from more than 17 different countries and are scattered all over the world. They stand out because of a particular ocean experience, skill, project, knowledge or enthusiasm. Click on their photo to connect with them on our membership portal (You'd have to login or request to join)
Scroll down to meet them!
ANDY VAN ZYL
What's up guys and gals, I'm Andy you'll probably find me in the ocean sailing, diving (free or SCUBA) or kitesurfing.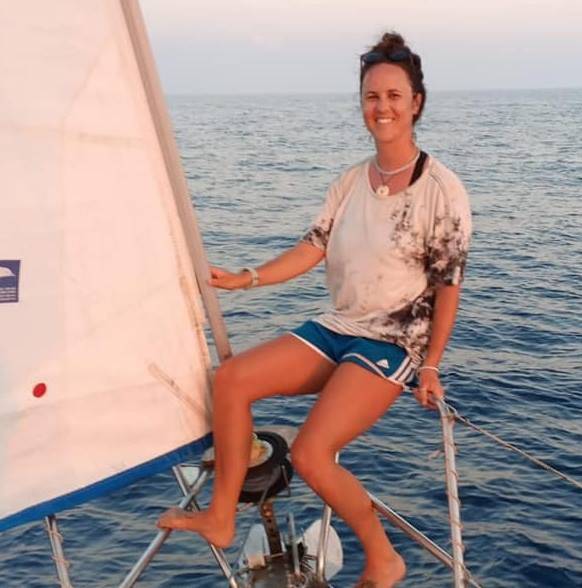 ANNAH MCMILLAN
Dreaming of owning my own little floating home one day. For now, I want travel and adventure by the best way possible… By sea!!


CAITLIN FLANNERY
People call me Noodles 🍜 ~ survey diver ~ divemaster ~ founder of The Sustainable Tourist ~ living in the ME ~ lover of memes
CAROLINA MAIENZA
Ocean lover and free spirit seeking for more waters to sail and more places to explore. Passionate activist for environmental and climate justice.
CLAUDIO MORGANTI
Hi there! I'm a diving instructor living on my lovely 30ft boat called Sam and member of the Sail & Whale Project. Glad to be part the Ocean Nomad experience.
EOIN KEYES
Hi! I'm 27 years old and from Ireland. I work on sailing boats as an engineer and skipper and own my own boat, a 1969 Hurley 22 called Moonshine.
FREDERICK SMITH
World traveller, sailor, yogi, diver, writer and marketer.
JANNEKE DIJKHUIS
Hi there! I'm a Dutchie, work location independent, crossed the Indian and Atlantic Ocean as a hitch sailor. The dream: live on a sailboat and explore the world. Founder of Mindful surprise.
KERSTINE LAUNAY
Nomad turned sailor on the seven seas, currently working with Sea Shepherd as bosun's mate.
MARKUS MUTTER
I am a Sailing, Freediving Ocean & Mother Nature enthusiast, Founder & Happiness Manager of OceanMinded, and dedicated to inspiring passion for water.
NICOLE HEIDENREICH
Yogi & Yoga teacher, wellness & wellbeing consultant (for hotels and others :)). Recent proud owner of a yoga studio in Dresden.
SUZE VAN DEN BEL
I am proud to be an Ocean Nomad ambassador and a big supporter of the founder of Ocean Nomads, Suzanne. .
THOMAS VAN THIEL 
Skipper. Founder of By The Ocean We Unite. About to set sail around the world with crew found via Ocean Nomads.
THOMAS VAN THIEL 
Skipper. Founder of By The Ocean We Unite. About to set sail around the world with crew found via Ocean Nomads.
Do you have what it takes to be an Ocean Nomads Ambassador? Apply for AmbassadorSHIP. We are currently not adding new ambassadors but when we do, you're the first to know.
Almost always we only invite ambassadors who we have personally met or and we can vouch for their real, rough, and wildness.
CURIOUS?
DISCOVER all the advantages of being part of ocean nomads!