For safe and happy sailing together, a good match and collaboration between the captain and crew is essential. Extra crew can give you more sleep, reduce costs, increase safety, and add more knowledge and fun to the journey. A well-chosen, informed, and prepared crew can make the trip more pleasant and safe for you as a captain. Having been on "all sides of the fence" we created a platform to make valuable personalized connections between boatowners, captains, (aspiring) crew and much more. Afterall, it's the people you share the ride with what makes all the difference.
If adventure and impact driven salty souls are what you are looking for, you found the place to find your sailing crew. We have a growing pool of dedicated and driven members all around the world eager to explore the oceans. In this blogpost we share a few ways how Ocean Nomads can support with finding your sailing crew. 
Why pick your crew from the Ocean Nomads Network
First of all, we are not a crew website. We are more of a support crew that got your back on your ocean adventure mission. Connecting for sailing is just one element of what we do. We're a community of ocean minded people driven by realizing our dream lifestyle with purpose. Besides connecting people to sail with each other, we create, share, exchange, support, amplify, to help each other on our eco and passion projects, adventures and mission. Together we can simply create bigger waves. So if you're a boat owner and don't necessarily need crew but could use, as well as contribute, some healthy, happy good vibes to the sailing and sustainability world, you get lots of value out of it. For example our founding member Peter (and superyacht captain and weather pro) offers a weather routing service to members, for free! It has literally saved lifes.
"What I hoped to gain from this community was the option of finding crew. Instead what I found is a collection of people who get what I do, who understand why we make certain choices and who are willing to support each other. And that is something i needed way more than just someone to sail with." – Michiel (Vessel Member)
Nomads joining us are driven, dedicated, and do their research on crewing on sailing boats. They invest a small amount into being a member showing they are serious about ocean adventure. They are attracted to ocean nomads because of similar values, adventure spirit and the resources we provide to inform them of what it means to be sailing crew. On our private network space (desktop and app), members have access to resources and mini-courses related to the ocean nomads lifestyle, crewing, conscious provisioning, cooking, waste management at sea, coastal and offshore sailing packing lists, and much more, and walk the extra mile to make things real. All great areas to delegate to your crew members. Our members are a valuable and affordable way for you to find your crew. To hire crew the rate is about 150/300 euro /day. We're not a professional crew network, but focusing on the lifestyle sailing.  Still a wealth of skills can be found in our tribe, mostly teaming up on exchange basis simply sharing the love for the ocean and ocean adventure. Our network ranges from total newbies to lifetime live-aboards and everything in between. We can all learn so much from each other.
All of our members pledge to
Be supportive

Step up for the environment

Act local

Give before you get

Be open & kind

…and have no day without nature play!
That includes you:) And we expect all members to treat each other with kindness, fairness and mutual respect. 
Another reason to pick your crew from Ocean Nomads is that we're a warm welcome bunch. Our network is private, away from social media, and created with the purpose to find your value sharing people faster. We may be strangers to you initially but that changes very soon, the more you show up. 
Sneak peak of our Member hub:
How to find your crew with ocean nomads
Explore who's searching
Check the latest crew available in 'Adventure Wanted & Available' space. We currently have +300 nomads who are often eager to jump on board and expect a wave of nomads joining us when Suzy's course goes live after summer on Travelling the world by Sail as crew, crew that takes it serious and invests in learning what it's all about. 
Add your Crew Ad
Post what you're looking for in 'Adventure Wanted & Available' space and we tag members that we are aware of that we see as a good potential match. The more we all know about each other and also the more specific you are the better we can tag and connect you to relevant people who may be a good fit.
When posting your crew ad, be as extensive as possible to be able to attract the right crew. Include a photo of your vessel, vessel details, and as many details as you can about your voyage plan and what your crew needs are. The more specific you are, the more relevant responses you will get. Make sure you have an up to date member profile and photo also. We can't create personalized connections if we only know little.
Provide your Profile & Project to our database
Update your Profile to accelerate your ocean dreams! Submit your profile & project updates here into our database. We love to learn more about our members and their missions and adventures!  You can also drop some content in there, if you'd like us to give your project more reach on our channels. 
Most importantly, though, share your updates and quests in the network so everyone can be inspired and support you. 
Join a Meet-up
Join one of our online events to connect with fellow nomads and captains. The online happenings are all about planting some seeds. Relationship building takes time and the better we know each other, the better references and invitations we will all make. Start networking early to find your best crew member for the upcoming trip. 
Also, now and then we as ocean nomads organization or members host meet-ups and raft ups in the wild. Those are the best! Feel free to host one on your vessel as a member. As we grow we hope to facilitate more and more of that. All this online stuff is just a means to get out there with the right people:)
Add your vessel to the Map
Add, update and explore the Ocean Nomads MAP and see if there are any nomads or vessels in the area you're looking for. Also make sure your profile and location on the map is up to date so the system works and vessels near you can find you. Note, you need to be a member to see the contact details of nomads and vessels. 
Get Verified
Our mission: Keeping Ocean Nomads a happy, safe, and meaningful ocean adventure network! We set up a system to verify both nomads and vessel members based on personal recommendations from fellow ocean nomads members. Each member that receives 3 positive references, receives a Community Verified badge.
We want you to feel happy, safe and good on board with fellow ocean nomads so you all have positive memorable experiences for life!
We can also remove someone from the network if references are negative. We luckily only have had to do that once so far. The fast that we're a small and private network filters already the noise. 
We amplify your voice
We amplify our members' voices in our full moon newsletter (+2500 readers) and on Social Media (+25.000 followers / group members), always respecting privacy and never revealing contact details unless desired or with permission.
Mingle with our members
Give, share, contribute, and show your value. Engage and interact within the Ocean Nomads network. People will sooner remember you. Show what you are up to with your vessel, share about your project, ask for input and ideas, and it will attract the right crew accordingly! As well as other vessel owners on similar mission to turn their vessels into examples of how sailing can be done as sustainable.  
There's more!
Ask and we answer
Don't hesitate to ask your questions. We are an active and engaged group, walking the extra mile for a fellow Ocean Nomad. We have so much to learn from each other.
Our mission: Keeping Ocean Nomads a happy, safe, and meaningful ocean adventure network! If for any reasons we feel doubts with members member's intentions or safety, we can remove one from the network. We can never guarentee 100% safety but if we all do our best to live up to the values than all together we get pretty far.
Check out our latest resource specifically for Captain looking for crew
In this resource, you find considerations and take-aways that can help you as a captain be prepared when welcoming crew on board. 
If you feel aligned with our vibes and values, then welcome to the tribe! Read all about the membership here. For a temporary moment we have a trial membership live for vessel members! Now you can test the waters to see see if it's for you!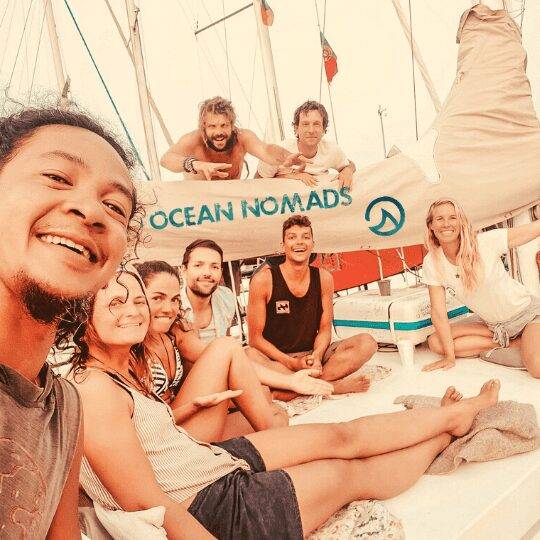 EXPLORE, CONNECT & MAKE IMPACT