18-24 JULY 2020 | DUTCH FLAT-BOTTOM SAILING TRIP
TRADITIONAL DUTCH FLAT-BOTTOM SAILING TRIP
Join us onboard a traditional Dutch flat-bottom boat! We are sailing the Wadden Sea in the Netherlands on a 16.5m sailing barge built like a classic fishing boat. There are 8 berths available… no experience necessary, just enthusiasm and spontaneity for an adventure, Ocean Nomads style! Will you join us? 
DATES: 18-24 or 20-24 July (to be decided by consensus)
THE BOAT: 16.5m traditional Dutch flat-bottom sailing barge
DESTINATION: The Wadden Sea, Netherlands, Europe
BERTHS AVAILABLE: 8 spaces on this trip **Members Only**

THE INVESTMENT: €550 (Midweek) or €850 (Full week) + food/moorings etc.
Spontaneous trip! Open to Ocean Nomads members only.
Not a member yet? Join now and join us!
We are working with a local charter company to hire a 16.5m traditional flat-bottom Dutch sailing barge. She was built in 2003 in the style of a classic 'vissermanaak', aka fishing boat.
She has beautiful sails for us to hoist, lots of ropes to pull, a bowsprit and big leeboards to raise & lower when we're sailing along.
Thanks to her flat-bottom, she can easily take the soft ground of the Wadden Sea. When the tide goes out we don't have to panic; instead we create our own mooring, to be left alone with nature where we desire! On purpose we plan this trip with the new moon to be able to take advantage of the tide.
Her traditional open-plan interior has a large saloon and galley, with plenty of light and ventilation through the classic hatches.
She sleeps up to a maximum of 12 people, but we won't be filling the boat to enable social distancing.
Our very own Ocean Nomads super enthusiastic Ambassador Boris has stepped up to skipper this trip. The Netherlands is his home country, and he has a lot of local knowledge and expertise that he's keen to share with the wider Ocean Nomads crew.
Boris was sailing the Wadden Sea just the other weekend. He even had two spaces onboard and asked via the ON community space if any members wanted to join. ON member Willemijn was lucky enough to take the spot, along with her two kids! They had a great weekend. We can't wait for Boris to show us the ropes on this special upcoming trip.
From the Ocean Nomads team, Eleanor & Suzanne will also be joining this trip. Ocean Nomads is inspired by Suzanne's own sailing adventures – and she has now sailed over 30,000, but never in her home waters of the Netherlands! This will be the trip to change that!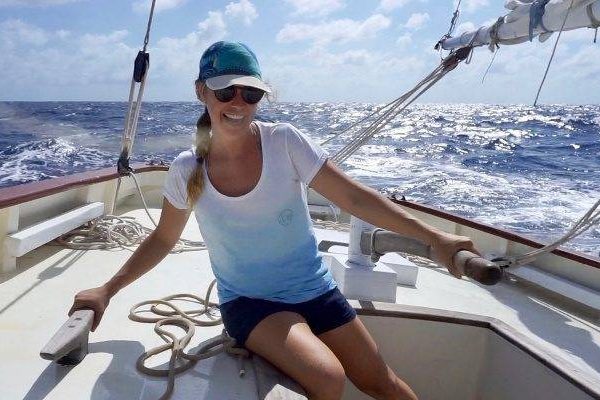 The soul captain of Ocean Nomads. Slow travelling oceans by sail, van and fins to learn and encourage a more conscious way of life. Suzanne is super driven to connect you to the ocean and each other. She has sailed more than 30.000 miles but never in her home waters of the Netherlands. That can't be! So let's go!
Boris takes every opportunity to get out on the water, whether it's sailing or kitesurfing. He has done numerous flatbottom boat sailing trips as a captain and inspired Ocean Nomads to do this trip, so more people can experience what the magic is about. Boris is also legendary at making bread at sea!
Inspired to sail, volunteer, work, own and liveaboard traditional ships since a teenager, Eleanor finds the magic and community of the sea like nothing else on earth… and wants to share it with you. Eleanor will be driving over from the UK with her van Eddie to go on this Edvanture with us!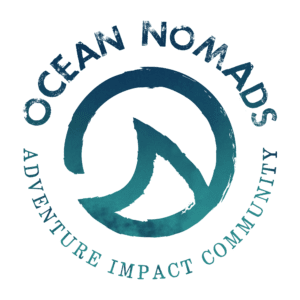 Want to join us? We'd love that. This is a no-experience-necessary trip. All you need is a desire to be a part of the crew, in line with our Ocean Nomads values & expectations – read more here. 
Our trips are usually a mixture of members-only and open-to-all. Because this is a last minute spontaneous adventure (true Ocean Nomads style) and the number of berths are limited, this is a members-only trip. 
Already a member? Great! Sign up to the trip by filling in this form. We'll confirm with you ASAP.
Not a member yet? No problem. Join today – we have a limited number of Founding Member discounted spots still available – and this trip can be your first epic Ocean Nomads adventure! What a great way to get involved and straight away meet your fellow determined salty souls.
WHAT'S INCLUDED?
One week of sailing adventure & nature connection
A unique mix of adventurous & impact-driven salty souls
Everything organised for you
The boat & all safety equipment
The Skipper
Your bed onboard
Eco elements, chats, and inspiration
Ocean Nomads eco T-shirt
The marina fees for the first and last night
Cleaning at the end of the trip
WHAT ELSE TO BEAR IN MIND IN TERMS OF COST?
Food and drinks (+/- 5-10 euro/day)
Fuel, water, mooring /marina fees (5-10 euros/day)
Transport to and from the boat
Personal travel insurance
Optional: Bed Linen & Towels provided by the charter company (20 euro)
Desperate to head back to sea on a salty adventure? So are we. But we'll do it safely. 
Like many of you, we had to live with a lot of change this year. We were sad that we had to cancel an earlier trip as the coronavirus situation took hold. Now lockdown is lifting, we're excited to be able to organise this rather spontanous getaway specially for our Ocean Nomads members. 
We will be running the trip in accordance with all local regulations, including maintaining 1.5m social distancing whilst onboard. 
The summer weather means we can spend as much time outside as possible, with lots of hatches open for ventilation overnight. Big water tanks mean we can all wash our hands and we'll take as many precautions as possible whilst onboard. 
We won't fill the boat to capacity to allow for social distancing. 
Everyone joining must take responsibility for adhering to their home country's travel advice and local regulations whilst in the Netherlands. 
Please take extra care to ensure your travel insurance is valid. We will send out more detailed info to those joining nearer the time, in accordance with the latest guidelines.
More About the Ocean Nomads Trips
Ocean Nomads trips connect people to each other and to the ocean. Nothing brings people together like actually bringing people together. And nothing triggers more than actual experience. We add nature and adventure into the mix, and we have a recipe for creating a big dose of positive energy and accelerating change for a common good. We provide ocean adventure and encourage low-impact travel.
We live up to the Ocean Nomads' slow sailing philosophy. We strive to have an onboard environment that inspires adventure and play, with a strong emphasis on health, simplicity, local, teamwork and environmental consciousness. Learn more about our trip values & expectations here.
Become a member to be the first to know about upcoming opportunities
Or subscribe for updates...