No boat? No Sailing Experience? But an urge for ocean adventure....
with impact and community
No problem! Sail the Atlantic and Caribbean with us | Winter 2022 /2023
Applications Approved and confirmed before August 30 receive 10 percent discount
Limited Spots per leg!
Expedition ON | Across the Atlantic Ocean and Caribbean Sea
Discover what it feels like to wake up on the ocean, breathe the ocean air, have the wind in your hair, navigate by the stars, live simple and resourceful, and be eye to eye with dolphins. Day in, day out….
After 5 years of organizing adventure and impact sailing trips we now go bigger and further than ever. And you can join!
Expedition ON | Across the Atlantic Ocean and Caribbean Sea
A sailing adventure offshore or between countries is not a straightforward endeavour. To be ready to expect the unexpected, careful selection and preparation for a happy, safe, and meaningful voyage is essential. We are ON it!
We facilitate and accelerate
Slow travel by sail, powered by wind, ruled by nature. Offshore and remote. On a 100+ year old hands on classic ship. No electrical winches here. With a bunch of 'strangers,'  Expect the unexpected!
Expand your network with insight and inspiration. We walk the extra mile to unite your soul tribe members on board. Connection and conversation at sea goes deeper in one day than months on land. 
Learn and expand your seamanship, sailing, navigation, resilience, conscious living, adaptation & social skills. Exchange skills and stories with fellow crew members
Gather tips and tools, to accelerate your journey to alternative adventurous conscious life on or near the sea. Lifestyle designing by and for ocean nomads.
We strive for minimum negative and maximum positive impact with our preparation & execution. The difference is in the details. 
Suzanne: "When I started looking into ocean travel by sail, seven years ago now, I had no idea about sailing and I didn't have connections in sailing either. I struggled to find out how to get into travelling by sail, safely, with little budget and experience, and as I went on I struggled finding 'my kind' of people, those purpose-driven wild souls looking for adventure and making a positive impact.
For a few years I lived more at sea than land, 'crewing/hitchhiking' on about 50 different boats. Good, bad, and priceless experiences. If I learned one thing, it's the people who make the experience, happy, safe, and meaningful! Offshore sailing requires deep respect for the ocean, and careful preparation and crew and boat selection. As I couldn't find my tribe and value-matching vessels, I created it, into what's now the Ocean Nomads network of which the most fast track ocean nomads lifestyle acceleration are the ocean nomads voyages.
By uniting you, your experiences, connections and stories, at sea, we can reach way further, help more, do more, and be more. We are at the forefront of what's happening. And we can do a lot to make a positive impact.
To reach for the stars, we must surround ourselves with likeminded entrepreneurial salty souls, share knowledge, and inspire and cheerleader each other. So much more is possible if we join forces on our journeys. The best, going on a journey together! I wish for you to see for yourself how beautiful the ocean are! And hopefully ignite the superpower within you to take steps into a conscious nomadic life in or near the sea, and give back to the ocean, our playground, our home, our life. The pursuit of a healthy ocean and lifestyle are one and the same."
Ocean Nomads Lifestyle Accelerator
With Expedition ON Atlantic, we are sailing around the Atlantic on a classic 36 meter schooner originally built in 1902. In 13 legs we travel +10.000 nautical miles, powered by wind and the energy of like minded ocean nomads on board. A hands-on ocean adventure discovering ways to live and travel more simple, wild, and pure. 
Experience the ocean nomads lifestyle, get natured, travel remote, explore the unknown, together with an international group of conscious ocean adventurers. Driven by passion and purpose for the love of the ocean.
Jump on board and accelerate your ocean nomads ambitions and lifestyle. With adventure Sailing, Ocean Exploration, Natural Lifestyle, Nomad Community & Ocean Conservation in the mix!
EXPEDITION ON impacts the way you approach life,
LivE with nature & LOVE the ocean
Still smiling at the memories! Met – and still talking to – some lovely people. Refreshed my nautical skills (helming, navigation, astro identification, etc.) Shared some great experiences through conversation, music, stories, yoga, cooking together, seeing ocean wildlife, and so much more! – Richard (Expedition ON 2021)
We go the extra mile to...
Unite Likeminded Adventure People
Throughout our expeditions we bring together a unique mix of inspirational individuals talents and knowledge of the group. We release the power from the individual talents and knowledge into the group, for maximum learning experience.
We select participants based on motivation, values, drive, and mindset. For legs of longer than 10 days we additionally interview on the phone to make sure expectations and values are aligned.
Make Ocean Adventure Accessible
No sailing experience is required. We happily teach. We believe that if more people get a chance to experience the ocean and all the magic that comes with it, the ocean wins more hearts. We like for you to see for yourself how beautiful the ocean are. And hopefully ignites a superpower within you to take steps into a conscious nomadic life in or near the sea. Voyages range between 7 days and one month. From offshore sailing to crossing oceans to exploring remote paradise islands. We provide a platform for nature connection, community, research, creation, while going remote. No budget? Check out our scholarship option (in Faq)
Prioritize Safety
The ocean deserves our greatest respect. Sailing remotely is an endeavour not to be taken lightly. Teaming up with Twister allows us to combine professionalism, safety, and adventure, impact and community facilitation. After three offshore collaborations, the only thing we broke were 2 plates. Many certificates are obtained and complied with to pass the safety checks and requirements to take people out offshore. This comes with a cost but the rewards are priceless. Offshore we keep contact and update relatives about the trip.
A few more benefits of jumping on board with us
Save lots of time and energy on researching boats, safety, captains & crew
We have sailed, worked, hitchhiked with +100 vessels by now. Teaming up with SV Twister is next level authenticity, safety, comfort (think toilet buttons, your own comfortable bed, filtered water, not to mention space on board) and professionalism.  We've done our first succesfull collaboration with SV Twister last year (see the testimonials). This is sailing in style, hands-on, as safe as we can control. There are very few ocean worthy vessel like her out there taking people offshore (legally), and for this price.
More people, more fun, learning, and impact! 
You can sail with 2,3, or 5 people. This is fun. We've done it. We've organized it. But going on an adventure with around 15 salt souls all as stoked about ocean sailing as you are is next level community living and socializing. Conversations and connections at sea go deeper in one day then in weeks on land. You'll always find a few souls you get along with well.

Space
SV Twister is 36 meter long. There is lots of space to move, stretch, work out, chill, relax. Below Deck, as well as on deck. There's a steering hut for cold nights, a lounge room but playing games, reading, and chatting. And big table and space for communal dinner, music nights and other workshops we as a crew team facilitate spontaneous as we we navigate the seas. 
Especially for the longer voyages where dropping anchor is not a daily routine, this is priceless. We only have so much patience to sit back and relax, which is kind of mandatory in small vessels,where space is limited.
"In my opinion Ocean Nomads sailing adventure are: 1. A reward for the senses by discovering incredibly beautiful places and breathtaking sceneries. 2. An unbeatable way to get introduced into the nice world of sailing, 3. An open window to learn watching our world and the people from another more conscious perspective. I see Suzanne as an inspirational person who, with her example, inspire others with ideas and proposals to define or redefine life projects and use inner energy for more noble purposes. Our oceans need strong committed people like her to advocate for our natural resources and leave them intact for the generations to come." – Jose Maria Perez
Amsterdam – Madeira | Oktober 15 – November 6 | 21 days
Madeira – Tenerife | November 7 – November 15 | 8 days
Atlantic Crossing | Tenerife – Cape Verde – Martinique |  November 19 – December 20 | 28 days
Martinique, St. Lucia, St. Vincent & the Grenadines, Grenada | December 21 – December 28 | 7 days
Grenada, St. Vincent & the Grenadines, St. Lucia, Martinique | December 28 – January 4 | 7 days
Martinique – St. St. Lucia, Vincent & The Grenadines, Grenada, Martinique | January 7 – 19 | 13 days
Martinique – St. St. Lucia, Vincent & The Grenadines, Grenada, Martinique | January 21 – February 2 | 13 days
Martinique – Dominica – Guadeloupe | February 4 -11 | 7 days
Guadeloupe | February 11-16 | 7 days
Guadeloupe – Antigua & Barbuda – St. Maarten | 18 February – March 4 | 13 days
St. Maarten | March 4 – 13 | 9 days
Atlantic Crossing | St. Maarten – Azores | March 16 – April 5 | 19 days
Atlantic Crossing | Azores – Netherlands | April 6 – 24 | 17 days 
"We must go and see for ourselves!"- Jaqcues Yves Cousteau
Expedition ON is a synergetic team-up between SV Twister and Ocean Nomads. SV Twister allows us to safely and responsibly organize adventures offshore. The beauty of a vessel this size allows us to connect more salty souls in one place, away from civilization where we disconnect from everything but each other and nature. These are hands-on active expeditions, with next level participation in the offshore legs. We have a professional captain and crew who'll be showing us the ropes. Everyone on board is expected to take part in the running of the ship. It's part of the fun, experience, development and epiphany moment creation. That said, we'll be many hands on board so there'll be plenty of room to chill, relax and simply BE.
You can join on or more legs. 
If you ever dreamed about sailing an ocean, visiting remote tropical islands or just an experience like nothing else, this could be it!
With Ocean Nomads we connect ocean people, vessels, projects, and environmental action to facilitate sailboat travel, adventure, impact, and a nomadic and ocean-conscious way of life.
We're many out there all on similar journeys, dreaming and doing about ocean adventures and to make a positive impact around us. We have brilliant ideas, projects, and dreams. We desire to experience, to learn, to connect, and to be part of something. We're looking to connect with others honouring simple and sustainable lifestyles. We are concerned by the state of the planet. We want to make a positive contribution and do our bit. The ocean brings us so much. As fanatic users, we are responsible for bringing life back into the blue. But alone we can only do so much. 
Ocean Nomads trips connect people to each other and to the ocean. Nothing brings people together like actually bringing people together. And nothing triggers more than actual experience. We add nature and adventure into the mix, and we have a recipe for creating a big dose of positive energy and accelerating change for a common good. We provide ocean adventure and encourage low-impact travel by sail.
On purpose we don't plan out everything in detail. We roll with the weather, our intuition and opportunity. With good preparation. 
We live up to the Ocean Nomads' slow sailing philosophy. We strive to have an onboard environment that inspires adventure and play, with a strong emphasis on hands-on action, health, simplicity, local, teamwork, skill sharing, and environmental consciousness. 
Trip Values & Expectations
ADVENTURE
ADVENTURE | Depending on the destination, the trip includes action, outdoors, play and fun. Our offshore we sail non-stop with everyone being involved in the watches. We do our best to include some hiking or snorkeling (either offshore at 1000s meter deep and/or in an epic anchorage on arrival). On our coastal trips days include a mix of sailing, jumping in the sea, snorkelling, exploring islands, finding treasures, hiking, SUPping/ We try to avoid marinas, so we can be closer to nature.
SPONTANEITY | We run our trips rather spontaneously on purpose. We're dependent on the weather. We go with the flow, and we may change course to explore what we find on the way. We embrace the art of getting lost. We don't plan out our routes into detail. On purpose.
SAILING | You don't need sailing experience. Captains we work with are professionally qualified and teach you the basics, helping you become a competent crew member – or building upon any existing skills you do have. We can sign off miles and give you a reference if you need one. We take care of onboard duties as a group. 
COSTS | As opposed to other trips we have organized, this expedition has food included in the trip price.
VESSELS | We work with local and sustainably-minded charter companies. This Expedition we work with a vessel of more than 100 years old and still sailing the oceans! It can't get more sustainable than maintaining that what is already built.
IMPACT
COMMUNITY
SKILL BUILDING
LIFESTYLE
Sailing Vessel Twister is a ship of +100 years that still sails the oceans, safely! Isn't that amazing in itself? No plastic push buttons or winches on this vessel.
 She's beautiful. She's solid. She's big. She's spacious. She's super comfortable. She's got soul. She lasts. She has proven her worth and seaworthiness. 
Sailing ship Twister is a schooner built in 1902, with an impressive story to tell. Originally a fishing boat built out of wood, fifty-five years later, her wooden hull was replaced for a steel one so she could continue to fish. She now features all safety equipment, modern comforts, and all licenses and certificates to take you safely offshore. She sails under the highly regarded Dutch flag.
Her current owners are driven to sail her far, and with purpose. The aim is to facilitate memorable expeditions that people will treasure for life, and contribute towards a better planet.
Last season she we sailed with her offshore, conditions ranging between champagne sailing and 9 Beaufort, totalling 5000 NM. The only thing we broke were two plates. Given the success of last expedition we now go all in and all around the Atlantic!
The size of the ship allows us to bring more people together in a place. Through Twister we can have you experience offshore sailing as safely as possible. Twister focuses on safety and seamanship competence. Ocean Nomads on the community, content, and organization. Many certificates are obtained and complied with to pass the safety checks and requirements. This comes with a cost but the rewards are priceless. Teaming up with Twister allows us to combine professionalism, safety, and adventure, impact and community facilitation.   
Home port

 : 

Harlingen, Holland

Year built

 : 

1902
Displacement

 : 

88 tonnes
Length overall

 : 

36m/118′
Draft

 : 

2.8m/9'2″
Beam

 : 

6.2m/20'3″
Rig

 : 

Schooner
Sail area

 : 

332.5m/1090'8″
Number of sails

 : 

6
Engine

 : 

Mercedes Benz 300 PK
Total number of berths

 : 

2

2
Bathrooms

 : 2
"The experience on twister with other Ocean Nomads was just really beautiful and I felt connected for the first time in decades, I felt part of a community and had companionship. I was so happy that it's so all inclusive of gender race religion nationality and most importantly age. It has connected me with like-minded people of all ages and being very transformational personally because my life has been incredibly isolated as a single parent Who works from home. I can honestly say October and November I felt happy and free for the first time in maybe 22 years.  It gave me everything I was looking for. It has opened up so many possibilities to meet new people with similar vibes, including connection, companionship, purpose and being one with nature." – Cay Chandler Netherlands – Canary Islands '21
"The sailing with such a beautiful ship. It is absolutely breathtaking to sail a tall ship and minimize the use of the motor as much as possible." – Marc Expedition ON 2021
Most of us spend more time indoors than outdoors. It's easy to forget the natural world we're coming from and living in. On the ocean, you face the wind and water elements and find that connection to nature. Imagine a scene with no traffic, no news, no pollution, no civilisation. Just wind and water – plenty of that! A scene where you can gaze for hours to the millions of stars above you; enjoy the dozens of dolphins sliding through the water at the bow of the boat; admire the pink-orange-red sunrises and sunsets, without any airplane trails changing the fluffy and cauliflower-like cloud patterns.
You'll become very aware of the natural world around you. This inspires. And it's eye-opening. You come to realise how disconnected from nature we are in our daily lives. In the middle of nature, far away from civilisation, you will see human impact. Usually we're far away. It's hard to make it tangible. It doesn't really affect us. Or so we think. But by being out there, you literally broaden your horizon. Experience will make you think, gain fresh perspectives, and may inspire you to act to turn the tide of the ocean challenges.
We like for you to see for yourself how beautiful the ocean are!  And hopefully ignite the supersupower within you to take steps into a conscious nomadic life in or near the sea.
I joined the Twister Expedition to share my knowledge as a marine scientist studying

cetaceans. I look at the sea a little differently than most sailors do, so it is beautiful to be able to share this knowledge and viewpoint since I believe science is not only for scientists.

There are many things that sailors and Ocean Nomads can do to help as citizen scientists.

Small tasks such as collecting data on cetaceans (Whales and Dolphins) on a sail can have a

large impact in the management and conservation of species. -Marc Fernandez, Marine
Scientist Madeira-Canary Islands
"It's amazing how many awesome friends you can make, and how much just one week on an ON trip can change your life " Marcin
Our drive: Protecting our playground!
Saving the ocean is at the core of the Ocean Nomads movement. The Ocean is the heart of the planet. Water covers more than two-thirds of the Earth's surface. Sea plants, like Posidonia, produce 70% of the oxygen we breathe, and the deep waters are home to wildlife and some of the biggest creatures on earth. It provides us with food, jobs, life, entertainment, and sailing! Without it, we cannot survive. 
We believe that by getting the ocean into people's heart, one starts caring more accordingly.
Summary! WHY JOIN? 
Meet your tribe and expand your sailing and ocean people network. Meet a beautiful bunch of adventurous unconventional dream chasers on a mission. Finding a boat is easy, finding a like-minded happy positive vibed team is what makes all the difference. The skills, stories, smiles, and contribution of your fellow curated crew, is what makes the trip like nothing else out there.

Around 15 fellow crew members to learn from and share with. Not just a few. 

Memorable and impactful moments. The good, the bad, the ugly. From wildlife sightings and sunrise at sea, to cooking up a meal on an angle and spotting plastic at sea. 

Connection to nature. Sailing the ocean is digital detoxing at its best. 

Experience arriving into a new country by sail!
Serious adventure sailing but as safe as we can make it! Mum will be happy.

Accelerate your personal journey to make the dreams happen. Turn your intentions into actions. Today.

Expand your worldview, generate fresh energy and insights. You'll step away from it all and get a dose of fresh perspectives on the world, fellow Ocean Nomads, and yourself.

Learn about minimizing your environmental footprint and to share what you have learned. Practice new habits and make different lifestyle choices.

Find and explore and build connections and partnerships to accelerate those dream and impact projects.

Learn the basics of sailing, navigation, build miles and develop your sailing skills and experience. Hands-on and from other that sail the seas.

Continuous Support. We got your back before and after the trip by staying in touch and building on what we create on board.

Make the adventure sailing dreams real faster and with long term impact and friendship.

To jump into 4000 meter deep ocean blue waters. When else do you do that?

To sail on a ship of more than 100 years old. It cannot get much more sustainable when it comes to travelling oceans. 
" This was one of the most epic experiences of my life so far, and I can tell it is just the beginning.  The ocean has taught me so many lessons…to embrace all experiences (even seasickness), not worry so much, and just be in the moment. Two weeks without connection to the outside world was absolutely glorious. I feel reset. After a very fragmented life the past few years, being around a crew of 17 people every day was amazing…to interact naturally with each other, feel a part of a family of diverse ages, nationalities and backgrounds…I learned so much from these amazing humans. My heart feels so full." – Sael
It's the people who make the adventure. This is the main message Suzanne learned after having sailed 30.000 miles on +50 different boats. We carefully curate a diverse, multi-skilled crew who share a similar mindset, to create a powerful team mix. It makes the difference.
We live beyond the status quo or desire to do so. We care for the planet. Minimize, simplify and cut down on our environmental footprint where we can. We lift each other up and support each other when in need.
OCEAN NOMADS EXPEDITION LEADER 
Every leg an Ocean Nomads expedition leader will be on board, representing the Ocean Nomads values and to make sure you get the most out of this trip. Keep an eye on the member hub for the chance to become an Expedition Leader.
Professional Crew
Twister is managed by a professional crew including a captain, first mate and one or two deckhands. This is required by law on a vessel this size. You'll be in safe, qualified and experienced hands. This doesn't mean you only sit back and relax. This is a hands-on voyage involving everyone in sailing the ship.
YOU?
Adventurer & explorer
Alternative lifestyle seeker
Striving to do good
Excited to share skills and stories
Eager to learn, share and care
Hands-on mindset
Ambitious
Saying Hell Yeah that's me when reading more about our community
A connected, conscious community is key to accelerating positive change. Through community, we can harness our collective passion for the ocean into solutions for a healthier ocean. 
"The things I like the most about trips with Ocean Nomads is the mix of different nationalities, ages and levels of experience. With these trips, there's always a general plan but also plenty of opportunity for spontaneity to have a real adventure!" – Louise Agren Croatia 2019 & Madeira-Canary Islands 2021
"The most unforgettable week. The trip preparation and the crew members turned what would otherwise be an adventure into something a bit more special. I took part in the Lanzarote Ecopirates week earlier in the year. And now in the Ocean Nomads fleet in Croatia. To say it was life changing sounds dramatic but it really was. Being able to share time and experiences with people with different backgrounds but of a similar mindset was incredible. I like to think that I can have and help contribute to a similar experience for myself and others as a member of the Flotilla crew." – Ben Clipstone (Lanzarote & Croatia 2019)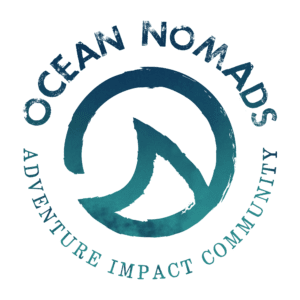 Are you ready to be part of THE EXPEDITION crew?
We'd love that. Be aware. Especially the offshore sailing trips are not for the faint hearted. These can be serious ocean adventures and we want to be sure you're ready and confident to join. 
The biggest value is in having a crew mix on board with similar mindsets and missions but different background and stories. We don't just accept any booking to fill up a boat. Apply to join so we can learn more about you and make sure we're all on the same page, and have a happy, safe, and meaningful experience accordingly. 
"Good sailing experience that makes me feel more confident on open seas.
Made good connections to nice people and got valuable insights for my master plan."  – Andi
See below the dates & prices for the different legs.
Approved and confirmed applications by Ocean Nomads Members before AUGUST 30 receive a 10 percent early bird discount (Prices as presented below)! First come, first handled.
Additionally:
A 5 percent discount applies when joining 2 Legs
A 10 percent discount applies when joining 3 or more Legs.
WHAT'S INCLUDED?
Sailing adventure & nature connection
A unique and curated mix of adventurous & impact-driven salty souls
Food and Drinks (Except Alcohol). All trips are vegetarian.
Being taught the ropes of the ship & seamanship
Eco elements, inspiration & action
Trip organisation
Ocean worthy vessel & safety equipment checked and complying with strict requirements
Professional qualified and experienced Skipper & Crew
Accommodation onboard in a shared cabin*
Marina fees, marine park fees (if applicable) and fuel
Bed linen
Memories for life!
*It's the most luxurious vessel we've ever teamed up with. Each cabin has a good size bunk, sink, plug to charge, bed light and window. Cabins are shared with one, two or three fellow Ocean Nomads. You'll always have your own individual bed.
WHAT ELSE TO BEAR IN MIND IN TERMS OF COST?
Transport to and from the boat destination
Additional nights spent ashore
Personal travel insurance
Personal equipment e.g. waterproofs 
Personal expenses ashore
Ocean Nomads Membership (If not a member yet)
A valid Passport!
Ocean Nomads members receive 10% discount on the Expedition Investment on application approved and confirmed before August 30.
An extra 5% discount applies when joining 2 Legs
An extra 10% discount applies when joining 3 or more Legs.
We create some scholarship opportunities for limited budget determined ocean explorers. (See Faq)
Ocean Nomads Trips have always sold out. We have limited spots. Now is the time.
Application approved and confirmed before August 30, 2022 receive a 10 percent discount (Ocean Nomads member deal)
Preference given to applications for +2 legs
Free Cancellation until 7 days after confirmation
Not a member yet? Join the network now to have priority access to application handling and to claim your 10 percent trip discount this august.
"Last summer I had my first sailing experience on an Ocean Nomad Sailing Trip in Spain. I initially signed up for one week, but ended up staying 1,5 months, and sailed as part of the crew from Northern Spain to the Canaries Islands. On this trip, I met a lot of like-minded people with similar goals and dreams. I also realized that it is possible to learn sailing in a low-key, affordable way. After this trip, I got so inspired that I decided to buy my own sailboat. After some research, I decided to buy a previous sailboat of an Ocean Nomad friend that I just met, and together we sailed the boat from Ireland to Spain. Without Ocean Nomads this would not have been possible. So if you are slightly interested in sailing, the ocean, meeting like-minded people and perhaps want to join a sailing trip in the future, have a look into Ocean Nomads!" – Nadiem
Testimonials & Transformations
"Thank you so much for bringing together such a beautiful group of people. And for the great way that you manage the whole trip – I loved to be able to gain a little more sailing experience in such a relaxed and open atmosphere 🙂 It is super motivating what Ocean Nomads are trying to do and being part of it.
"In my opinion Ocean Nomads sailing adventure are: 1. A reward for the senses by discovering incredibly beautiful places and breathtaking sceneries. 2. An unbeatable way to get introduced into the nice world of sailing, 3. An open window to learn watching our world and the people from another more conscious perspective. Our oceans need strong committed people like her to advocate for our natural resources and leave them intact for the generations to come."
"It's amazing how us all, people from different places, got along with each other so well. We've made a definitely long lasting friendships. Thank you for bringing us together.
"The most unforgettable week. The trip preparation and the crew members turned what would otherwise be an adventure into something a bit more special. To say it was life changing sounds dramatic but it really was. Being able to share time and experiences with people with different backgrounds but of a similar mindset was incredible. I like to think that I can have and help contribute to a similar experience for myself and others as a member of the Flotilla crew."
"It was the best week of my life."
Ocean Nomads makes you feel really connected. The trips are amazing and the connections are unparalleled. So much of my journey in conservation, with this lifestyle and also as an entrepreneur, has been about finding those people who understand and who can share the experience alongside me. With Ocean Nomads, I don't feel like I'm shouting into a giant void of the internet with tons of people who don't get it or are not interested. I feel like I have solidarity of people beside me. I'm really excited to see where that goes. I can feel the positivity leaking into my life already.

Caitlin NoodleHair Elizabeth


February 21, 2021

In a sailing vLog I heard about this platform for sailors where crew can find a captain/boats and vice versa. 10 minutes later I had account because I was looking for hitch sail holiday. After some time I found the famous Oceanpreneur Suzy promoting a sailing adventure in Croatia. I applied, got permission to get onboard and coincidentally took part in the early and adventures beginnings of this ocean community. For sure I show up well prepared and read the Ocean Nomad book in advance. The book is nicely written interesting and entertaining to read, and tells an exciting story of someone who turned her dreams into plans and called them plan, let's do it! Besides this it is full of useful tips and tricks around crewing and boating, highly recommend!!! Luckily I took the book with me cause got it singend from all the salty sailor that participated in that awesome sailing adventure which is a wonderful piece of memory for me now. How we are? We are a growing bunch of awesome, nice and caring people that have the most different backgrounds, stories, nationalities, or even views. But this even enriches our community as we share thoughts, tips and much more about the most different topics around sailing and sustainable living. But what actually brought us together, is a deep and strong connection to the oceans, wanderlust, intrest in adventurous traveling around the seven seas and the intention to make a positive impact.....and not to forget the parties!

Andi Faude


February 15, 2021

I met Suzanne back in 2014, before Ocean Nomads was born. She inspired me to go sailing, which I did. I had never sailed back then and jumped without any experience on a yacht to sail from Malaysia to South Africa. Sailing has changed my whole life and my whole perception of life. The Ocean has thought me valuable life lessons, such as patients and gaining mental resilience. It excites me that Suzanne found a way to inspire and connect more people to the ocean with her platform. I can only recommend throwing off the bowline and losing sight of shore. I'm 100% sure you'll learn many new things about yourself and life when you do ;).

Janneke Dijkhuis


February 15, 2021

I had the privilege to sail on two of Ocean Nomads impact adventures. Where I met a lot of beautiful people with whom I shared a lot of inspiring moments and so new friendships created. Im very thankful and proud to be a part of this awesome community. Who introduced me and M.Khalid Ibrahim to each other when we sailed under the nomads flag in the mediterranean for three weeks. We became friends and he joined last year November with me to rainy Holland to help out with the mayor refit of my boat: Windfall. Now one year later the refit is done our friendship even better en we are starting this month to sail around the world. so we can meet all of your nomads out there!!

Thomas van Thiel


February 9, 2021
Frequently Asked Questions
Make the dreams real. This year!
Expand your worldview and knowledge, develop skills and experience, build relations with those on similar journeys with similar values, share stories and dreams, team up for the future, and accelerate your ocean nomads ambitions. 
Gain fresh perspectives on life, perhaps a different lifestyle choice or course, and last but not least, lots of memorable moments added to your life profit. 
This is not just an expedition you join for a few weeks and that's it. This is an experience that will change the way you approach life, nature and the ocean. We believe our ON expeditions are just the beginning for plotting the next course in your life. By jumping on board this voyage, you will also join our expanding global network of impact-driven travellers, ocean entrepreneurs, sailors, (free)divers, surfers, and active salty souls passionate about the ocean and eager to do good. Our community exists out of total newbies and seasoned liveaboards, supporting each other in our ambitions. On our community hub we continue the conversation, action, personalized advisory and connection building, team-ups and meet-ups beyond our events and expeditions to maximize the impact, fun, and ripple effects for ocean adventure and action. We got your back on this expedition and the journey after.
Just testing the waters...?
Or subscribe for our new and full moon newsletter